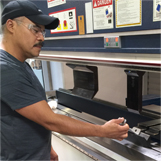 Careers
Careers at SERCO
At Serco Mfg. Co., we offer competitive pay rates and excellent benefits, including company medical insurance, holidays and vacation. Qualified candidates may mail, e-mail, or fax a resume to:
Serco Mfg. Co.
3233 W. Kingsley Road
Garland, TX 75041
Fax: 972-276-9844
Email: support@sercomfg.com
Current Open Positions
Precision metal fabrication and mechanical assembly
Sales person position is currently available. Applicant must have prior experience.
Sales Representative(s) and Distributors are welcome.